The first stop of the three-days 2018 Shanxi Brands on Silk Road (ASEAN Station) was started in Kuala Lumpur, Malaysia on the afternoon of March 25th. Kuala Lumpur is a city with progress, prosperity, diversity and inclusion. Commercial Counselor Shi Ziming of the Embassy of the People's Republic of China in Malaysia; Director MBahria of Ministry of International Trade and Industry Bilateral Relations Department in Malaysia; China Affairs Director Wen Youzhi of Malaysia Foreign Trade Bureau; Director Bahali of Malaysia Ministry of Trade and Industry; Wu Guoqiang, Vice President of Malaysia General Chamber of Commerce of China, Chairman of Shaba Antemi Group, President of the ASEAN China Economic and Trade Association, Malaysia Datuk; Datuk Wang Hongxing, Honorary President of Malaysian Clan Association and other Malaysian politicians and business celebrities communicate with Shanxi delegation, discuss the new developing opportunities on "One Belt One Road" and negotiate the economic and trade cooperation around "Demonstration Zones" "Pioneers" "New Highland" in Shanxi.
Hosted by Shanxi Provincial Government, Shanxi Brands on Silk Road has been held in 11 countries including Hungary and Russia since launched in year 2015. In year 2018, under the new situation of building a new highland for the interior area, shouldering the new mission, foreign trade and economy cultural activities start a new journey. Taking ASEAN as the starting point, Shanxi Brands on Silk Road will enter Kuala Lumpur in Malaysia, Bangkok in Thailand, Phnom Penh and Siem Reap in Cambodia with exhibitions, project negotiations, friends city events, cultural performance, visits and communications.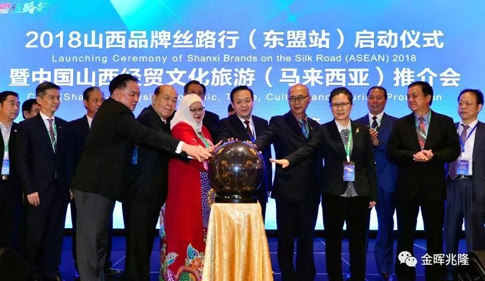 ASEAN has become a new growth stage for Shanxi's foreign trade business, it has a rapidly grown at a 18% average annual rate in the past three years. The two countries are not only close neighbors but also good friends and partners with mutual trust and respect with win-win cooperation. Malaysia is an important country on the ancient Maritime Silk Road and is the first country response to the "The Belt and Road" policy. Shanxi, located in central China, is also an important part of "The Belt and Road" business district. Shanxi is an important industrial base and a new comprehensive energy base in China. Currently, it's fully implementing the development concept of innovation, coordination, green, openness and sharing and building a new highland for China's interior areas and a pilot area for comprehensive reform of national resource based economic transformation. The district has made remarkable progress in promoting industrial transformation and upgrading, balancing and optimizing development of trade and investment and building a first-class business environment, which has created significant development opportunities and a favorable development environment for domestic and foreign merchants.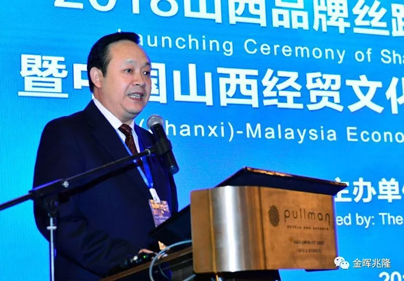 Chen Hecai, head of Shanxi delegation and president of the Provincial Council for the Promotion of International Trade, introduced Shanxi to the participating entrepreneurs in Malaysia. He said, Shanxi has an industrial system with relatively complete categories, chains and advanced levels. It has highly complementary and great cooperation potential with ASEAN countries in the traditional industries such as coal, coke, electricity, metallurgy, equipment manufacturing, modern coal chemical industry, new energy, new materials, energy conservation and environmental protection, bio-medicine, cultural tourism and characteristic agriculture and etc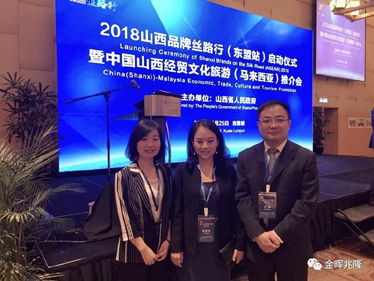 As the leading biodegradable plastic raw materials producer globally, a new generation promoter of biodegradable industry in China, at the same time, JinHui ZhaoLong is also a new brand of the transformation and development of traditional industry in Shanxi. President Yajuan Li of JinHui ZhaoLong, will attend all above activities and conduct deep and extensive communications with local enterprises. JinHui ZhaoLong will promote the popularization and application of biodegradable plastics in Southeast Asia.
Uphold the concepts of "Silk Road Spirit" and "Amity, Sincerity, Mutual Benefit and Inclusiveness", based on cultural communications, taking the economic and trade cooperation as the guide and production capacity cooperation as the breakthrough point, Shanxi Brands on Silk Road will continuously strengthen the communications and cooperation with Malaysia and ASEAN countries. Benefit mutually and seek win-win development!