Lvliang Municipal Party Committee Secretary Qingxian Wang Led Investigation Group to Study Biodegradable Plastic Transformation Project of JinHui Group
In order to further understand the key project construction and private economy development, Lvliang Municipal Party Committee Secretary Qingxian Wang led the investigation group to visit JinHui ZhaoLong and studied about its 100,000 ton biodegradable polymer project on June 13th.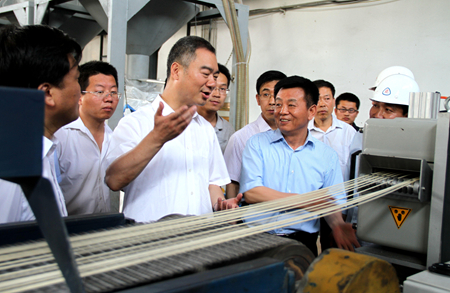 Accompanied by Lvliang Municipal Committee, Xiaoyi Municipal Party Committee Secretary Wenge Ma, JinHui Group Chaiman Shenggui Li and General Manager of JinHui ZhaoLong, the investigation group visited succinic acid plant, polyester plant, compounding plant. JinHui Group Chairman Shenggui Li gave a detailed introduction on the project construction situation, production processing, market situation and company's preparation for the "New Three Board" listing work, etc. JinHui ZhaoLong launched its first phase project with 100, 000 tons of fully biodegradable polymer production capacity in 2015. The current output of biodegradable polymer material is 20,000 tons and that of succinic acid is 10, 000 tons. The product of PBAT is a extremely potential biodegradable polymer material which can be processed to manufacture mulch films, garbage bags, fresh-keeping films, etc and it can be completely decomposed into carbon dioxide and water under natural condition. It is significantly important in terms of reducing white pollution and improving our living environment.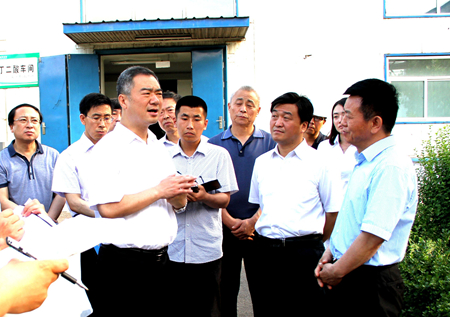 Secretary Wang gave full affirmation on JinHui Group's leading role in the extension of industry chain and promotion of industry transformation and upgrading. He also pointed out that Lvliang was currently in the middle of a critical period of getting rid of poverty and seeking for development via transformation, and how to realize second entrepreneurship, how to make contributions during this period were the new tasks at the moment. JinHui ZhaoLong is the critical project of the local industry transformation, technological innovation and financial revitalization. The local government will actively liaise with related government departments to provide the company with financial funding, technical support, support for listing work, etc and promote JinHui ZhaoLong to the benchmark enterprise inside the industry.